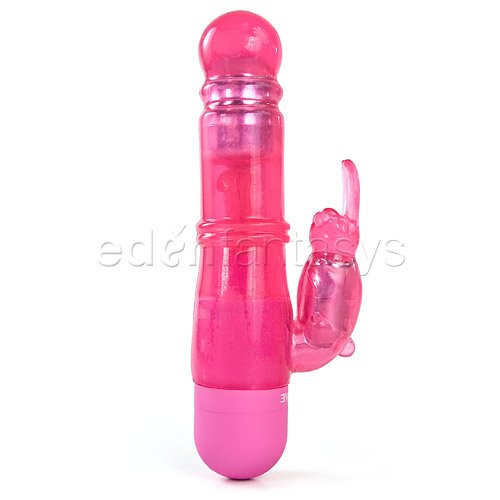 I love rabbit vibrators, they're straight forward and possess the two qualities I want most in a toy- the ability to penetrate my pussy and the ability to stimulate my clitoris. The
True Love Honey Bunny
from Evolved Novelties does both, while I'm not overly impressed, it does do them to the best of its ability.
This vibrator is big. With a circumference of 5 1/4" it sets this rabbit apart from others I own that average around a 4 1/2" circumference. What makes this vibrator feel even bigger is that the tip of the toy doesn't taper: the rounded, fat base coupled with the extra squishy shaft made insertion a struggle... it even made it a little painful. I'll blame it on the fact I wasn't very wet, I tried but looking at the toy didn't get me very excited. The cutesy face of the rabbit with the excessive detail in it's adorable little eyes and nose did little to rev my motor- I'm not into woodland creatures. Also, the idea of having to prepare myself to take this extra large vibrator seemed more of a hassle than a delight. After sufficient struggle I managed to wrestle the vibrator inside and while the
TPR
shaft was floppy, bendable, and very squishy, it still felt big. I was able to bend the shaft so that I could stroke my g-spot but as the vibe wasn't very firm, I soon grew tired of having to manipulate it to get it to do what I wanted.

Honey Bunny from Sleeping Dreamer
The vibrator is controlled by a push button base, it says it offers three speeds but there were only two. The first was actually fairly high compared to other toys I own, it also wasn't a continuous buzz as it had occasional pulses that reminded me of the car I had in high school with an engine that would chug and sputter occasionally to remind me that it was well past its lifetime. The second setting was a bit faster and the vibrator having to work harder at increasing the buzz became much louder, with the added boost in bass the motor sputtered a little more frequently which made me question its longevity. The third setting was the same as the second, there wasn't an increase in speed nor sound, disappointing to say the least but the second setting was without a doubt powerful enough to get off with and I couldn't deal with this vibrator if it got any louder.
In the shaft, towards the tip, there's a fat bullet. This bullet provides deep and very strong internal vibrations. What I didn't like is that the vibrator didn't have the option for me to change the speed of vibrations of that bullet- they were the same speed as the clitoral attachment. When the vibrator was on the high setting, the bullet actually became painful. Could it be? A vibrator so powerful it was painful? You bet. The girth coupled with the extreme vibrations was a little more than uncomfortable for me, I didn't like that I was unable to turn them off. Either I had to suffer with the strong internal buzzes so that my clitoris was satisfied enough to allow me to orgasm, or I had to sacrifice the attention my clitoris received so that internally I wasn't so overworked. It was a difficult choice to make and ultimately, my clit came first.
You'd figure that it would be easy to get off with a toy with so much heft and juice but this was one of the hardest orgasms I ever had to muster. Due to the lack of stability in the shaft, I really had to bend the vibrator every which way so that internally, the tip of the shaft touched the right spots and externally so that the bunny touched the right spot on my clitoris. The clitoral attachment was very pliable as well, it wasn't firm enough to give the direct amount of pressure to my clitoris that I required. Everything just seemed off, just one mark off from getting it right. I finally came after 45 minutes of struggling to and it fell flat. A major disappointment to behold.
A plus is that the Honey Bunny is made out of non-toxic
TPR
, while
TPR
is phthalatee-free it is also semi-porous. This particular jelly-like
TPR
vibrator will attract everything in site; dust, lint, hair, and small debris. No matter how many times I cleaned it, it still felt dirty and looked dirty. I'm also not crazy about vibrators that are translucent because overtime they become discolored and just don't look as good as they once did. One positive feature is that it is waterproof, you're able to fully submerge this in the bath as well as expose it to the stream of a shower- a plus for anyone looking for a Tub Time playmate.
Overall, I wasn't very impressed. I only recommend the
True Love Honey Bunny
from
EdenFantasys
if you can handle a big vibrator with a lot of power. If you're not a size queen or into something that will numb both your fingers and your clitoris, than by all means, check out
Edenfantasys
for a better
adult toy
.
Rabbit vibrator by Evolved

Material: TPR (Thermoplastic Rubber)

Safety: